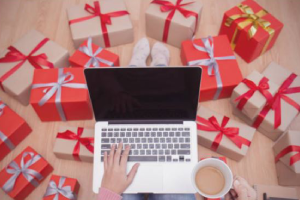 The Christmas holidays can be a stressful time for many college students - you want to get gifts your friends and family will love, but you also have to contend with a college student's budget. Not to worry! Here are ten tech gifts that you can get for $20 or under. Awesome and affordable!

Travel Smart All-In-One Adapter - $12.99
If you have a friend who loves to travel, they'll love this all-in-one outlet adapter! There's nothing worse than getting to your destination and realizing you can't plug in any of your electronic devices. This adapter will ensure that doesn't happen. It can be used in over 100 countries including France, the United Kingdom, Japan and Australia.

Portable Phone Charger - $16.99
Everyone knows the feeling of impending doom when you realize your phone is about to die and there's not an outlet in sight. That's when having a portable charger comes in handy. This one is ultra-thin, so it's perfect for carrying in your purse, backpack, or even your pocket. It also comes in six colors (black, hot pink, white, blue, gold and pastel pink) so there's something to fit everyone's tastes.

USB Cup Heater - $9.95
Perfect for those late night study sessions! If you're someone who looks to have a hot cup of coffee or tea with you while you work, this adorable cup heater will keep your drink from getting cold. Since it's USB-powered, you can plug it right into your laptop, so your favorite hot beverage is always close at hand!

Bluetooth Keyboard - $19.99
Do you have someone in your life who's replaced their laptop with a tablet but misses the functionality of a keyboard? Their favorite gift this Christmas will definitely be this portable Bluetooth keyboard. This keyboard is completely wireless, rechargeable and has a six-month battery life. It's also sleek and compact, so it can easily fit in a backpack or briefcase.
Digital Cooking Thermometer with Timer - $19.99

For the foodie in your life, this digital cooking thermometer will be their new best friend. It comes with a traditional probe that makes it convenient for candy making or checking the temperature of meat on the stovetop. What makes this thermometer unique is that it will work even when the oven door is closed, so you can avoid opening the oven door and letting all the heat escape. You can set the timer as a reminder to check your temperatures, ensuring each dish will turn out perfectly!

Handmade Leather Headphone Organizers - $7.99
For the people in your life who like one-of-a-kind handmade gifts, you can't go wrong with one of these beautiful leather headphone organizers! These handy dandy wraps will keep your headphones from becoming a tangled mess in your purse or backpack. They come in five beautiful colors (brown, red, beige, green and blue) so there's something to fit everyone's tastes. To put the icing on the cake, you get TWO wraps for $7.99, so whether you want to give two wraps to one person or get two gifts for the price of one, this is one deal that can't be beaten!

Inflatable Solar Lantern - $19.95
For the person in your life who loves the outdoors, they'll really appreciate this gift. Instead of lugging around bulky lanterns, flashlights and packs of batteries, all you'll need to throw in your camping gear is this inflatable solar lantern. These lanterns are collapsible, lightweight and completely flat when not inflated, so they're easy to travel with. All you have to do is inflate it and let it charge in the sun for up to eight hours. A full charge will give you 6-12 hours of light. It also comes with two brightness levels and a flashing mode.

Dash Rapid Egg Cooker - $18.79
If you love eggs but hate the mess and the time it takes to cook them, you'll fall in love with this gadget. This egg cooker cooks up to six eggs in any manner you want - hard, medium, or soft-boiled, poached, scrambled, you can even make omelets! You don't need a stove top or anything to make your eggs, so this is perfect for a dorm, small kitchen, or other small space. All you do is choose how you want to cook your eggs and set the timer. Then you just wait for the timer to go off and enjoy your perfectly cooked eggs! It also comes in five colors (black, white, red, pastel yellow and mint green) to fit any decor.

Electric S'mores Maker - $19.99
Perfect for movie night, family gatherings or any other time you're craving one of these ooey-gooey treats! This indoor s'mores maker comes with an electric flameless heater, two stainless steel roasting forks and four compartment trays for graham crackers, chocolate, marshmallows and whatever else you'd like to add to your s'mores. It's also easy to dismantle, so clean-up is a breeze!

World's Smallest Vacuum Cleaner - $18.99
For the small messes in your life, this tiny trinket will do the trick! This USB-powered tiny vacuum cleaner has some serious suction, and Firebox.com calls it "the Dyson of the miniature vacuum cleaner world." It's perfect for cleaning up small messes at your desk, in the kitchen, or anyplace else where getting out the full-size vacuum cleaner would be overkill.
We understand it's tough budgeting as a college student, so we hope these ideas helped you make the holiday a little less stressful. If you're looking to save on renters insurance as a college student, consider Dorm Room Insurance from NSSI. Your laptop and phone can be protected from accidental cracked screens, fire, theft and more! NSSI takes care of the repair bill when your items get damaged! Get a Quote!