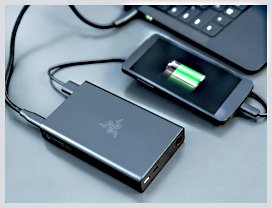 Last week, we shared a post on social media about the brand new Razer Blade Pro and its impact on the gaming and graphic design industry. However, the Blade Pro is not the only impactful product hitting the market for the Razer brand in 2017. In fact, in March, Razer plans on releasing its brand new Razer Power Bank, which is the latest in external battery technology.
All signs point to this product being a game changer! In the blog, below, we have highlighted some of the main features of the new Razer Power Bank and what it will mean for increasing your devices battery life!
---
Design: The Razer Power Bank is a sleek, black aluminum cased accessory meant to help expand your laptops battery life for a significant amount of time. The device comes equipped with two USB ports that can charge other electronic devices (including smartphones) while simultaneously providing power for your laptop. Overall this device provides a consumer-friendly and appealing design for users.
Expanded Battery Life: With Razer being a company that focuses its product on high-quality graphics and gaming technology, one of the biggest issues facing these devices is the weak battery life. The Razer Power Bank is built to help your laptop remain active for up to 15 additional hours! The battery itself is a 12,800mAh battery encased in aluminum casing. This is definitely a welcomed accessory for gamers and graphic designers everywhere!
Cost: As a buyer, you can acquire the Razer Power Bank for $150 this coming March. While it might seem like a steep investment, it is more than worth it when you are stuck in long seminars or readily need your laptop to be accessible when you are in the cafeteria or library. In fact, the Power Bank is not only compatible for Razer products. Any device that uses USB-C for power is eligible to function with the Power Bank accessory. Other devices compatible with the Razer Power Bank include: Lenovo Yoga 900, Dell XPS 13, HP Spectre 13 x360, ASUS Transformer book T100HA, and more!
---
If you are an owner of the Razer Blade Pro or any laptop for that matter, make sure you don't go into the spring semester unprotected from damages or theft! That's where we come in! Get coverage for all of your personal property through NSSI and avoid the risk of having to replace the property out of your own pocket! Aside from laptops, we also provide College Student Property Insurance for a number of items including all electronic devices, desktop computers, furniture, jewelry, bicycles, and more! We provide protection from financial loss against: theft, fire, natural disasters, vandalism, accidental damage, and power surge from lightning strike.