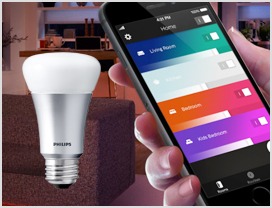 If you were just beginning to think that the Smart Refrigerator was officially the end of all Smart home appliances… you would be wrong. That's right! If you are looking for the right light bulb to set the appropriate mood for your room, then this just might be the new innovation for you! Numerous companies have released their own version of the Smart Light Bulb, but which one is best for you?
In the below blog we have highlighted some of the industry leaders in order to help you make the most informed decision possible!
---
Philips Hue: This wireless lighting product allows users to control the ambiance of your home from your smartphone and tablet! Offering both white or color ambiance tempered to suit your lifestyle and preferred lighting. With an extended life capacity of 25,000 hours, this option might just be the choice for you! Depending on the distributor, you can purchase this bulb for as low as $60.
Lifx: With over 16 million choices of ambiance, the Lifx provides you a Wi-Fi enabled way to create the appropriate atmosphere for you! The Lifx bulb can connect and be controlled by your smartphone, tablet, Amazon Alexa, or even you're Google Assistant. Depending on the model of bulb you are shopping for, the price can range anywhere from $59.99 to $79.99.
WeMo Lighting: While being the most expensive bulb on this list at $99.99, WeMo Lighting offers LED lighting that provides it owners the ability to customize the lighting schedule of your bulb based on the time of day, and even can be set up to gradually dim as you fall asleep! With a 23 year life expectancy, this is widely considered to be a high class bulb that meets the needs of your daily life!
---
While we may not be in the market of protecting Smart Light Bulb yet, we cover many other personal property items that you might be taking with you to school, next school year! If you're looking for extra protection of your valuables and some added peace of mind, NSSI can help you out! We provide College Student Property Insurance for a number of items including electronic devices, clothing, computers, musical instruments, jewelry, bicycles, and more! We provide protection from financial loss against: theft, fire, natural disasters, vandalism, accidental damage, and power surge from lightning strike.