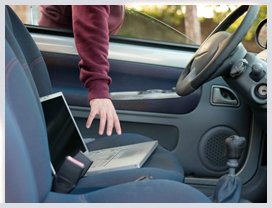 Without a doubt, personal property is extremely important to the lifestyle of a college student. You're at a point in life where financial security is a pipedream and you're living on your own for the first time in your life. So the importance of your personal property multiplies, and thus the importance of making sure you are protected multiplies as well.
In the following blog post, we have scoured the internet to figure out the most widely reported stolen items for students while they're at college. While this writing has not been done with the intent to incite worry, it has been assembled at the hope of warning college students of the potential perils of protecting personal property while living on campus.
---
Bicycles: When living on campus, transportation is key! In 2017, biking has become quite the popular form of transportation among college students. Typically, you'll see plenty of bike racks outside of campus buildings and living areas, but not always are they completely secure. Even on the smallest of campuses you'll often see someone who decides they're in a hurry and they'll find the nearest bike even if it's not theirs. Make sure to lock up!
Televisions: Depending on the size and model, having someone steal your television can be among the more expensive costs to have to deal with as a student. All it takes is one student or "friend" to decide they either need a new TV or want to make a little extra money, and you're out of one of your more prized possessions. Be vigilant and protect your devices!
Jewelry: Loss of jewelry can be devastating, whether it's something you've purchased yourself or if the jewelry comes from a family member, the emotional connection to these possessions can be irreplaceable. Whether it's getting a safe or an extra protective jewelry box, don't skimp on security for your personal property!
Laptops: This is probably not a shocking item on this list, but regardless, a laptop is an extremely important piece to a student's education in 2017. Between storing assignments and completing group projects, the laptop has become the lifeblood of colleges across the nation. Suggestion: password protect your computer and make sure your room is locked up as much of possible to prevent potential theft.
---
It goes without saying that many students will be taking most of the above items with them to school this coming fall. While you'd like to trust that nothing will happen to your personal property, the reality is that everyone is at risk for potential theft. So, if you're looking for extra protection of your valuables and some added peace of mind, NSSI can help you out! We provide College Student Property Insurance for a number of items including electronic devices, clothing, computers, musical instruments, jewelry, bicycles, and more! We provide protection from financial loss against: theft, fire, natural disasters, vandalism, accidental damage, and power surge from lightning strike.