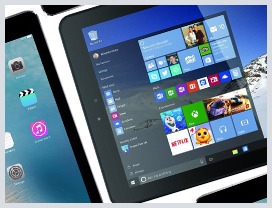 Let's be honest, as a college student, gone are the days where you enjoy putting together long Christmas lists for family members who are looking for any clue as to what to get you. In fact, how often do you find yourself simply asking for money for the holidays? I get it. I've been there! So the question is what to do with that extra money accrued over the holiday season?
With the New Year right around the corner it's without a doubt the season of change, so why not treat yourself to a brand new tablet? If you are one of those who are in the market for a brand new tablet, take a look at some of the top available, and cost-friendly, tablets on the market for college students as we head in 2017!
---

Lenovo Yoga Tab 3: Featuring a practical design and built-in kickstand, the Lenovo Yoga Tab 3 is one of the more cost-effective tablets currently available. The biggest advantage to the Yoga Tab 3 is the incredible 12 hours of battery life! Some would argue that the most notable con of this device is the slower loading speed, compared to other tablets. In the end, this is one of the most cost-friendly tablets on the market today at the low price of just $149.99.

Asus Transformer Book T300 Chi: The Asus Transformer Book T300 Chi is considered to be an excellent option as a laptop/tablet hybrid. For college students, included with this tablet is a keyboard dock, which allows you to use the device as a fully functional laptop. With 10 hours of battery life, a 10.1-inch screen, and slim build, this tablet is one of the bets tablets on the market. The Asus Transformer Book T300 Chi is a little more expensive than the previous model, but not overwhelmingly so. You can purchase the 32GB version for $349 and the 64GB for $399.

9.7-inch Apple iPad Pro: This version of Apple's iPad collection is widely considered the best overall tablet currently on the market. While this device is the most expensive of those listed in this blog, if you want some serious bang or your buck, this is your best option at a price of $599. One of the cooler features is that the Apple iPad Pro contains a 12-megapixel camera that can shoot 4K images and video. Although you will not mistake this iPad for a laptop replacement, this is one of the best tablets you can find on the market today!
---
Not only is it time to change the calendar but, as a student, it's also time to update your technology! If you didn't receive all the devices needed to get you through the rest of your school year, it's time to figure out a plan for all of that extra cash and treat yourself! In addition to a new tablet, if you're looking for extra protection on your brand new tablet and some added peace of mind, NSSI can help you out! We provide College Student Property Insurance for a number of items including electronic devices, computers, furniture, jewelry, bicycles, and more! We provide protection from financial loss against: theft, fire, natural disasters, vandalism, accidental damage, and power surge from lightning strike. Learn more and get a quote here! Have a great New Year everyone!