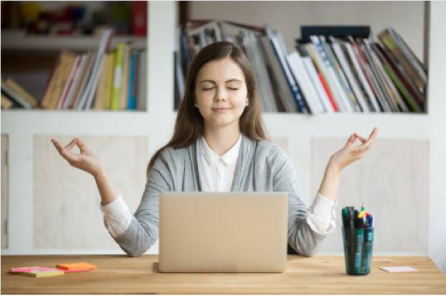 In a world where there's constantly a new article about the health benefits of coconut oil or another television doctor preaching why we should all be avoiding chickpea pasta, our emotional and mental health tends to take a back seat.

This is especially true for college students, who can sometimes find it hard to find time to eat between classes, extracurriculars and attempting to have a social life. But taking care of your mental health is just as important as your physical health, and should be given the time and attention it deserves. Since October is Emotional Wellness Month, we're going to give you some affordable and easy-to-use apps that you can use when your mental health needs a little extra TLC.
Talkspace

Do you want to talk with a therapist but are worried about the cost? Maybe you don't feel comfortable talking to a complete stranger face-to-face? Whether you're looking for ease or just added anonymity, Talkspace is a great app for you. You simply answer an assessment where you state why you're seeking therapy and you're paired with a licensed therapist. From there, you decide how often you want to chat with your therapist. You can set a weekly time to talk or can message them on an as-needed basis. It puts you in control of your therapy. At $65 a week, it can be a bit pricey, but when you consider most therapists charge $75 to $150 per week and you also have the freedom to chat with your therapist whenever you want, it is a great deal.

Click to Get Started!


Omvana

While you may just think of meditation as a way to relax and quiet your mind, it has a host of other health benefits. It can reduce stress, help control anxiety, and even lengthen attention span. Perfect for an overspread college student! But if the thought of sitting in a quiet room trying not to think of anything doesn't appeal to you, guided meditations will be your new best friend! Omvana unarguably has one of the biggest libraries out there (think of it as the Netflix of guided meditations). You pick an area you want to improve on, such as deep relaxation or better sleep, pick your meditation, and can even customize your background music, so the possibilities really are endless. At $9.99 a month this is a great and affordable way to manage daily anxieties and increase relaxation.

Download Today!


Mind Shift

If you struggle with chronic anxiety, you know how exhausting and frustrating it can be. Over analyzing every little thing and worrying about things that you know are irrational. Mind Shift is a great app to have on hand when you can feel your anxiety rearing its ugly little head. Using proven Cognitive Behavior Therapy (CBT) techniques, Mind Shift gives you coping skills to help manage your anxiety. The app will help you understand your anxiety, give you relaxation exercises and help you change your thought and behavior patterns. The best thing about this app? It's free!

Download on Apple or Google Play!


Aloe Bud

So many times we're told that taking care of ourselves and practicing self-care makes us weak or selfish. But making time for you is important. If running around from class to class, balancing a campus job, and trying to keep your grades up leaves you little time to think about self-care, that's where Aloe Bud comes in. Aloe Bud is a free app to help make self-care a priority in your life. You can set your own reminders, so whether you want to drink more water, take a break to read your favorite book or practice meditation, you can make sure these things are a part of your daily life. You can also take part in daily self-care check-ins and journal prompts to evaluate how you're feeling that day. Self-care made simple!

Download Today!


Relax Melodies

One of the most important things you can do for your mental health is to make sure you're getting plenty of sleep. If you have a hard time getting to sleep or can't seem to quiet your mind, an app like Relax Melodies can help. This is a free app that includes ambient sounds, binaural beats and sleep meditations to help you fall asleep and stay asleep. An easy and affordable way to make sure you stay well-rested!

Download Today!



While you're taking care of your emotional health, let us take care of your phone, laptop or tablet. We offer protection against cracked screens, spills, and other accidental damage. Get coverage today!