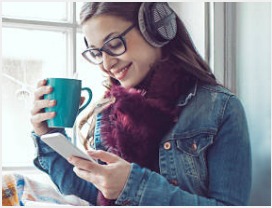 The holiday season is almost upon us, and that means spending time with family with friends, eating delicious food and, if you're lucky, maybe getting some gifts. If you're someone who has family or friends that are college students then you know how difficult it can be to come up with gifts to buy them for the holiday season. Well we're here to help! We've compiled a list of gifts that college students will absolutely love!
---

1. Google Home Mini (Purchase Link)
The Google Home Mini has all of the magic of the original Google home, but puts it in a miniature size. It takes calls, answers questions, delivers news, and you can use it to control parts of your smart home, like your Nest thermostat or your Google Chromecast.

2. Fitbit Flex 2 (Purchase Link)
Fitness is incredibly important, and the Fitbit Flex 2 helps track your health and fitness with its wearable technology. The Fitbit tracks steps, distance, calories burned and active minutes when you're walking. Additionally, it monitors your heartbeat and it can track your swimming as well with its Swim-Proof technology.

3. JBL Flip 3 SplashProof Portable BlueTooth Speaker (Purchase Link)
This SplashProof speaker is perfect for durable and sounds fantastic. Do keep in mind that you can't fully submerge the speaker, though you don't have to worry about it being ruined by rain or spills.

4. Zojirushi SM-KC48 Stainless Mug, Bordeaux (Purchase Link)
This Stainless mug is perfect for the college student on the go. This mug keeps drinks cold, or warm, for hours on end. It uses temperature retention technology, making it perfect for the coffee drinker in your life.

5. Echo Dot (Purchase Link)
The Amazon Echo Dot puts the power of Alexa into miniature form. The Echo Dot can answer questions, order things on Amazon, and use different "Alexa skills". The possibilities are endless.

6. Apple Lightning 12000mAh Portable Charger (Purchase Link)
Everyone has had the unfortunate luck of having a phone that is out of power. It's terrible. Don't get caught without any power for your phone, buy this portable charger for your phone. It charges fast at an amazing value. So much value, in fact, that you'll wonder how you ever lived without portable power for your phone.

7. Marble Headphones (Purchase Link)
These stylish headphones are sure to make heads turn when you wear them. Beyond their stylish look, they have a great bass sound which makes your music sound astounding!
---
These 7 gifts are all things that college students would love. But what do you do if your college student accidentally has one of these gifts damaged after you buy it for them? What if the item is stolen, or is lost in a fire or any number of accidents? NSSI Insurance offers protection solutions for the college student in your life.
NSSI spokesman Rocky Lemon says, "This holiday season make sure your loved ones are protected, especially while they're away at college".
Rocky is right, make sure your student's belongings are protected and that they are safe, get protection through NSSI! View our insurance offerings and get a free quote here!